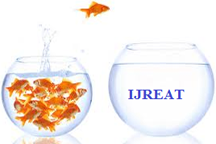 IJREAT invites authors to send/submit their original unpublished research works in the field of various Engineering discipline & Advanced Technology and their application
IJREAT is a bi-monthly international journal
Six issues per year.
Publication: Pioneer Research Group Journals Publisher (IJREAT).
Excellent editorial standards.
Free color in electronic standards.
Access free online issue of Journal for life time.
A rigorous, fast & constructive peer review process.
All abstracts & full text available free online to all main Universities/Institute worldwide ensure promotion to the widest possible audience.
Fast & Easy paper publishing process
All journals published by IJREAT will be indexed in DOAJ, EBSCO, Google Scholar, Scientific Commons, CiteseerX, getCITED, Index Copernicus and many more.
Prestigious journal Editors across the globe networked through IJREAT Publication.
An opportunity to submit up to six papers per calendar year period to be considered for publication in one of the growing international journal in the world.
Submit your paper to editor@ijreat.org
OR
Click here to Submit